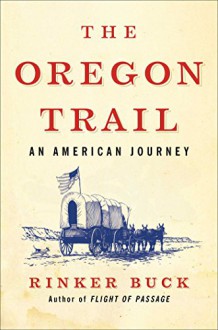 The Oregon Trail: An American Journey
ISBN:
9781451659160 (1451659164)
Publisher:
Simon & Schuster
Edition language:
English
Bookstores:
SusannaG - Confessions of a Crazy Cat Lady
rated it
2 weeks ago
This is Rinker Buck's account of how he and his younger brother, Nick, (and Nick's dog, Olive Oyl) traveled the Oregon Trail, from Missouri to Oregon, by covered wagon and mules, in 2011. It hadn't been done since 1909. Buck seems to have been inspired by a combination of a deep melancholy and...
JLee22
rated it
2 years ago
So I was convinced, somehow, that this book was written by a woman, not sure why I thought that... Actually, it's written by a guy. Maybe the ambiguous name of the author? Misreading of the synopsis? But he's funny in that humorously cynical manner that so appeals to me. Plus, he's an obsessive hist...
teaandbooks
rated it
3 years ago
As someone who, yes, played that 'Oregon Trail' game, I was so looking forward to this book. Man decides he wants to travel along the Oregon Trail? In an actual wagon pulled by mules? Sure, why not? Sadly, this book really, really, REALLY needed a better editor. It's a story of the journey, the hi...
Reflections
rated it
3 years ago
This entertaining, often enthralling, mix of history, humor, travelogue, family memoir, and no holds barred social commentary reminds me of my favorite Bill Bryson books--especially A Walk in the Woods about Bryson's (mis)adventures hiking the Appalachian Trail. When Rinker Buck discovered that larg...
Share this Book
http://booklikes.com/the-oregon-trail-an-american-journey-rinker-buck/book,13298161