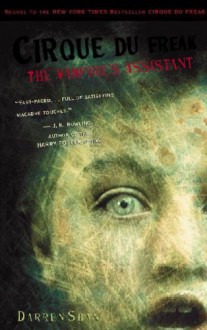 The Vampire's Assistant
Format:
mass market paperback
Publish date:
October 1st 2002
Publisher:
Little, Brown and Company
Edition language:
English
Series:
The Saga of Darren Shan 0 (#2)
Bookstores:
Welcome!
rated it
8 years ago
I remember now why this series stuck with me for the last 11 years. The great thing about Darren Shan is that everything leads up to something. Nothing is left to chance and nothing is ever meaningless. Throughout the book there were so many clues about what was going to happen and even outright fo...
Zoë Markham
rated it
9 years ago
Even better than Cirque Du Freak. I LOVE this series. The second one in is darker and more violent than the first, but it's so intelligently and compellingly written that I'd still be absolutely chuffed to bits to find my son reading this when he's a few years older, violence and all. Darren's co...
Lady Danielle
rated it
9 years ago
EDIT So I just finished watching The Vampire's Assistant the film... I'm kind of disappointed. The film was completely different — the film was a mixture of both A Living Nightmare and this; the first 30 minutes of it stuck with book one. Unfortunately, it did not continue with the plot and started ...
ElasBuecherWelt
rated it
9 years ago
Spannend geht die Serie weiter!Darren schließt sich dem wilden Haufen des Mitternachtszirkus an. Als Assistent von Mr. Crepsley, einem Vampir, erlebt er verrückte Abenteuer – aber hat auch ein Problem: Durst, großen Durst. Denn aus dem ganz normalen Jungen ist ein Halbvampir geworden ..Er versucht d...
Confuzzled Books
rated it
12 years ago
I do not know if the original books have the campiness that the movie and the manga have. This makes it more enjoyable and the images fun. Characters are likable and relate-able. The fact that Darren Shan named the character that is a vampire after himself is just awesome. I knew what was going to h...