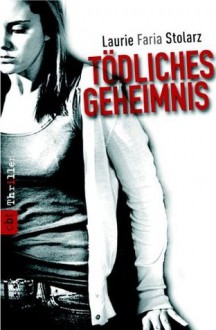 Tödliches Geheimnis
ISBN:
9783570306680 (3570306682)
Publish date:
March 1st 2010
Edition language:
Deutsch
Bookstores:
NicoleeK
rated it
5 years ago
Goodreads Synopsis: Some secrets shouldn't be kept...Up until three months ago, everything in sixteen-year-old Camelia's life had been fairly ordinary: decent grades; an okay relationship with her parents; and a pretty cool part-time job at the art studio downtown. But when Ben, the mysterious new g...
The Primroses Were Over
rated it
7 years ago
This wasn't terrible, but it wasn't great, either. Camille is annoying in a lot of ways, and she never really gets better. She is socially awkward in the most obnoxious way--she's extremely self-centered and it causes her to miss all sorts of things that are obviously going wrong in other people's...
rated it
7 years ago
Title: Deadly Little SecretSeries: Touch #1Author: Laurie Faria StolarzRating: 4 starsRecommend to?: Mystery Lovers! Goodread's Page My Review: I was hooked on this book within the first few chapters and i never put it down. I finished it in one sitting and was smiling about it! :]I loved how it...
The British Book Nerd
rated it
8 years ago
Amazing! :D You can check out my full review here.
The Mystical and the Magical
rated it
9 years ago
4 stars. To be honest, when I was searching for a mystery, and ended up picking up Deadly Little Secret, it was with hesitance and skepticism. I figured the book would be a normal three stars — nothing memorable — or even two stars — bleh — but Deadly Little Secret ended up surpassing all my expecta...
Share this Book
http://booklikes.com/todliches-geheimnis-laurie-faria-stolarz-kattrin-stier/book,3398864