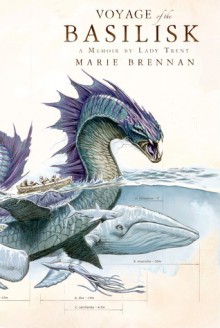 Voyage of the Basilisk: A Memoir by Lady Trent
ISBN:
9780765331984 (0765331985)
Publisher:
Tor Books, 352 pages, Hardcover">
Edition language:
English
Series:
Memoir by Lady Trent (#3)
Bookstores:
Abandoned by user
rated it
5 years ago
I had been awaiting this one with enthusiasm because Charles Darwin's Voyage of the Beagle has always enthralled me. I'm not particularly a ship/boat person, but the idea of a scientist travelling 'round the world studying the natural world is extremely appealing to me. So, this book would be, I hop...
Fiction Fantastic
rated it
6 years ago
I'm so enjoying this series! I can't believe there's not a bigger following... probably not enough sex or angst? I must admit even I was rooting for a bit more romance in this book, but alas... Lots of action and adventure to make up for it though! What I really enjoy about this series is that, even...
Wyvernfriend Reads
rated it
6 years ago
And Lady Trent goes on another voyage and is banned again from going back.
Merry Meerkat Marginalia
rated it
7 years ago
3.5 Stars, borrow Self Purchase, Kindle edition First Impression: Seems as well written as the first two This book is a bit of a mixture for me. There were parts I liked and parts I didn't like. love how the son Jake has joined the cast of characters. I also loved the flying university (grou...
Ceridwen
rated it
7 years ago
My most recent on the B&N science fiction blog.