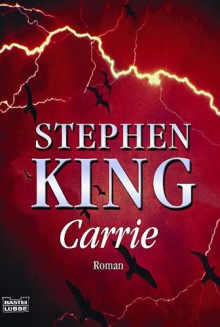 Carrie
ISBN:
9783404131211 (3404131215)
Publish date:
October 27th 1987
Edition language:
Deutsch
Series:
KOLEKCJA MISTRZA GROZY (#4)
Bookstores:
Book Thoughts
rated it
6 months ago
The problem with reading older Stephen King books for the first time is that I have seen the movies. I thought this book was really good but knowing pretty much the whole story ahead of time does take away from it. I found that to be very true with Misery and sadly here again. With that said, I stil...
Bookish thoughts!!!
rated it
7 months ago
german and english review (not spoilerfree) Inhalt: Carrie war schon immer anders. Wegen ihrer unbeholfenen Art ist sie in der Schule eine Außenseiterin und wird gnadenlos gehänselt. Zu Hause leidet sie unter dem religiösen Fanatismus ihrer Mutter. Nur ein einziges Mal fühlt sich Carrie so wie all...
Ivana - Diary Of Difference
rated it
2 years ago
Blog | Facebook | Twitter | Instagram | Pinterest I'm probably one of the last people on Earth that hasn't read a Stephen King book. Carrie is the first book I decided to read. People have been suggesting it to me for a while, and it seemed like a nice short bit of introduction to Stephen's horror w...
Obsidian Blue
rated it
2 years ago
King does a great job with setting up the main characters in this story: Carrieta "Carrie" White, Sue Snell, Carrie's mother, the teacher, principal, Chris, Billy, and Tommy. You can believe how a girl like Carrie could have been pushed as hard as she was in this book and decides to take matters int...
Char's Horror Corner
rated it
2 years ago
I finished my third read of Carrie on Sunday. I wanted my thoughts on it to be fresh for an in-person book group meeting at the end of this month. (It is prom season after all!) I still love this style of story-telling which includes snippets from newspaper articles, different (fictional) boo...