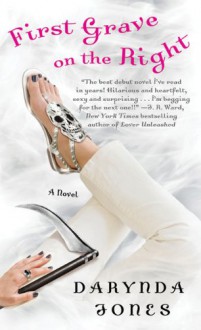 First Grave On The Right
Darynda Jones,Mass Market Paperback,Series: Charley Davidson Series 1, English-language edition,Pub by St. Martin's Press on 11-29-2011
Darynda Jones,Mass Market Paperback,Series: Charley Davidson Series 1, English-language edition,Pub by St. Martin's Press on 11-29-2011
show less
ISBN:
9780312360801 (0312360800)
Publisher:
St. Martin's Paperbacks
Edition language:
English
Bookstores:
BuckeyeAngel
rated it
4 weeks ago
Charley had been having the same dream for a month. Death via extreme pleasure was a serious concern. Tonight Charley had been pulled out of a dream, first a frosty chill went up her ankle then her phone rang at 4:30 am. Then Charley noticed there was a dead man at the foot of her bed. Charley had b...
Mary's Books
rated it
6 months ago
I was warned. I have to agree with others who were not thrilled with this book, but I always give a book a try and I have taken to listening to the books and reading alternately, in order to get through the books I want to read. With all the driving I do, it cuts into my reading time and there are p...
Obsidian Black Plague
rated it
6 months ago
This book was awful. I can't even with it. The writing wasn't great. The main character Charley is just painful. The other characters were painful. There were too many things happening and at the end we get a ridiculous reveal about someone that Charley has become obsessed with. You would think a ...
Between the Pages
rated it
7 months ago
First Grave on the Right is by Darynda Jones. It is a unique twist on the story of the Grim Reaper. In this take, Charlotte Davidson (aka Charley) is the Grim Reaper. However, she doesn't swing any scythes and doesn't run around in hooded cloaks bringing waves of doom with her. Instead she is a ...
Angel's Guilty Pleasures
rated it
12 months ago
http://angelsgp.booklikes.com
Angel's Guilty Pleasures
3.5
Audio Review: First Grave on the Right (Charley Davidson #1) by Darynda Jones (Narrator) Lorelei King
First Grave on the Right Series: Charley Davidson #1 Author: Darynda Jones (Narrator: Lorelei King) Genre: Urban Fantasy - Paranormal Romance - Mystery Publisher: Macmillan Audio Release Date: February 9, 2011 Format: Audiobook Pages: 9 hours, 4 minutes Source: Library A smashing, award-winning...
Share this Book
http://booklikes.com/first-grave-on-the-right-darynda-jones/book,12621858