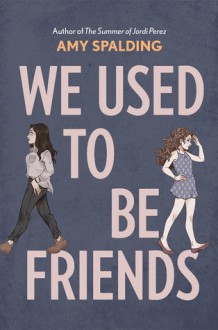 My expectations from this book before I read it was that we would meet one friend at the start of the friendship or a high point in the friendship, and one at the end of the friendship, slowly meeting in the middle and there would be some sort of big reveal as to what caused the break-up. I fully expected to bawl like a baby by the end. This... did not happen.

We Used To Be Friends is, well, it's a bit of a mess. Instead of what I thought would happen, the chapters felt all over the place for no real reason other than a gimmick, I had to continuously check where I was in the story to the point where I nearly started making a spreadsheet. The friendship was clearly broken at the chronological start of the friendship, so you never got to see a real moment where the friends were inseparable.

June is actually an awful person. She spends her time building Habitat's for Humanity so she can feel like she's better than everyone else, she's controlling to the point of abusive, choosing to not speak her feelings and then send two word texts to Kat in order to make Kat run around trying to work out what she did wrong, then she blows up at Kat for being too extra. I saved many examples of James shittiness, including when Kat started she was scared to be herself around James because she felt like James was judging her, when she felt like he parent's break-up was more important than the death of Kat's mother, when she spends basically the whole book being jealous of Quinn but not bothering to ask for time just with Kat, which Kat would have gladly given and the straight up gaslighting during the major argument.

Kat, I love. She's a messy human being and can come across as selfish but I don't think that was it. She spends so much time trying to make everyone else happy, and making sure other people's needs were met and just got shat on for it from James. She's appreciative of every kind gesture, like when James bough her emoi earrings and she put them on immediately, taking a picture for Instagram, when she tries her hardest to like her Dad's new girlfriend despite still healing from her mom's death, when she was devastated after the argument with James yet still went to an event with Quinn, because she knew it meant a lot to Quinn.

I left the story not upset for anyone but Kat (and maybe James' ex boyfriend Logan, run while you still can mate), wishing that Kat ditches James entirely and gets herself new friends that make as much effort as she does to show their appreciation.