Please note that I received this book via NetGalley. This did not affect my rating or review.
You were a terrible book, but made me laugh which I desperately needed right now. Lord. I am going to try to do a non-spoiler review on this. I should have known I was in for something I was not going to like after the author starts off with the following:
The idea for the novel came to me one summer day as I was pondering what it meant to be forty. As a mother, wife, and full-time employee at a small media company in Toronto, I came to the rather bleak conclusion that life after forty was all carved out -- the future, no longer that bright bountiful sea of possibility, but rather a dark, receding lake where rock bottom lurked menacingly close. Were all my opportunities drying up? If I wanted to change the course of my life at this age, was it even possible?
Yeah. I don't know either. Here we go.
So "Tell Me My Name" follows married couple Ellie and Neil Patterson. The couple drop off their two kids at summer camp and make their way to a cottage they just bought. Neil is hoping that they get the fire going again in their marriage. Ellie is hoping so too. She has been dissatisfied with the state of her marriage and upset since her publishing company went kaput. You will read a lot in this book about that though I don't imagine for a second that Ellie reads books. Anyway, Ellie and Neil get frisky and meet their new neighbor Jake who seems to be...unnerving at times. When Ellie lets him in one day she is chloroformed and wakes up to her husband tied to a bed and her tied to a chair. Ellie is being given three chances by Jake to tell him his name or he's going to take Neil's toe, finger, and then his life. The book then follows Ellie remembering men from her past.
I am laughing right now. Sorry.
Back to the book. Ellie is a mess. You find out about her family's backstory and it's worse than anything I saw on Lifetime. Ellie's sister Bethany who was a gifted dancer ends up in a vegetative coma after a car accident left her injured. Ellie and her other sister whose name I am blanking on are left to deal with the fall out in their family. Her sister is pretty nasty and self involved and Ellie is angry over the fact her parents keep letting her get away with things. Then Ellie starts acting out when she gets to her 20s until she meets her now husband Neil in a bar. She likes Neil, but has a preference for men who look like George Clooney. Okay, still laughing because the George Clooney thing becomes an element of this messed up plot. Anyway Ellie and Neil you have to wonder about since you don't get why they are together. Only married for 10 years I think, the two of them have definitely let the flames burn out. And we find out that Neil is hiding something from Ellie and then we have like two reveals about that and I went are you serious and kept reading. There's also multiple mentions of Ellie's dancing and I kept thinking she looked like this in my head: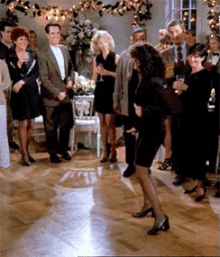 The bad guy is a mess. And apparently has superpowers since he kept coming back like the Terminator. I won't get into him at all except nope. And then we get a final reveal about the guy at the end and I went how many twists is this? Six?
The lead detective on this case sucks and ends her calls and conversations by saying toodles-oo and I wanted to smother myself.
There's also the brother in law who should have told Neil to shove it through most of this story and the sister in law who...I don't even understand her purpose. There are so many side characters in this story which made my head hurt.
The writing was bad, laughably so at certain points and the linkage between things was not set up very well. I just started calling things coincide #1, #2, and so on. The author in the beginning talks about how this is a book about love, acceptance, forgiveness, and letting go and I went yeah that's where you went wrong. The whole book is very disjointed I found and throwing in the overall plot with the nonsense with Neil and everything else going on made for a messy book.
The flow doesn't work very well since we jump around in the third person to multiple people. I don't know if it would have been better to say with just Ellie or Neil. Honestly I don't know what could have saved this book.
The setting of this book takes place in Toronto. I am not familiar with the city and can't say much about it since the book jumps all over the place.
The ending was a whole mess. I really wanted to tell the author her trying to tie everything together showed she didn't really have a good grasp of writing. Honestly I felt at times I was reading different stories trying to force themselves into one coherent one.