You know that feeling when you're reading a good book and you sort of know where it's going and it goes there but it's still okay because you still had a good time getting there? But there's also this undercurrent of weird niggling at you the entire time and then you get to the last page and it sucker punches you in the brain and then you can't figure out if you're really excited or super dreading what's going to come next?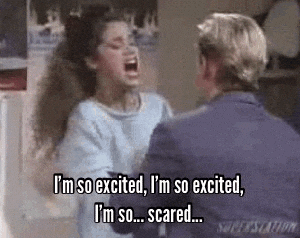 And all of a sudden everything you've read prior to that moment is put into this whole other context and it makes this horrible kind of sense and you don't know what to make of it? Yeah, that's me and this book.
This was going to be a solid four stars, and the first 95% of the book totally is. But now? Gotta raise it up a star. The author is toying with us, just because she can! I bet this is what Ms. Faulkner was doing as she was writing that page:
Laurence and Quentin are still figuring out their psychic powers and their relationship, and how to get past Quentin's various hangups with sex or anything sexual in nature. Along the way, Quentin gets an unexpected visitor, Ethan gets a boyfriend, and we get to meet new psychics. The other really starts to expand on this world while also giving us a little more background on Quentin. We don't get quite as much focus on Laurence, as this one is more Quentin-centric, but we still go back and forth on their POVs.
The flaws exist only because the characters are flawed, and to say more about it would be giving away too much of the plot. Let me just say, you'll yell at these characters like they're in a horror movie but at least Laurence is somewhat genre savvy. Quentin is as always tragically oblivious.
What else can I say? The author's geography of San Diego continues to prove good. Kind of off on our weather. May's usually not that hot, but freak heat waves do happen all year long so I'll give her that one.