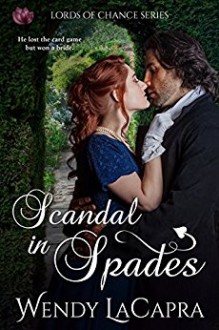 My reviews are honest & they contain spoilers. For more, follow me:



It's been a while since I pretty much gulped down in about 2 days. Let me tell you that it's a rare occurrence for me nowadays. But Wendy LaCapra's newest historical romance, book 1 of Lords of Chance series, Scandal in Spades, managed to do just that. I was hooked from the first page till the last. I enjoyed almost every bit of it—the storyline, the characters, the humorous moments and the banters between the H and the h. Lord help me, but I wanted more when it ended. MORE!

Lords of Chance is Wendy's 3rd series after the Furies (now complete) and Mythic Dukes (ongoing). I've been a fan of hers ever since I read the Furies series. To me, she was a rising star in the arena of Historical Romance. Her absence of a year and a half due to personal reason was greatly felt and I personally kept checking for a new release announcement. So I was ecstatic last year to learn that she's back to writing—with not one but two series!

Lords of Chance is a Regency set series with 3 peers of the realm, 3 Lords who are old friends, as the center of the storyline. They go by sobriquet taken from the cards—Spades, Clubs and Diamonds. The latest, a new addition to that small group came in the form of Lord Markham; Hearts to complete the circle. He's also the youngest in the group, often jokingly called as the 'pup'. But unknowing to him, he was being groomed by our Spades for an ultimate purpose. No, nothing nefarious but that didn't mean it was any less important to Spades's own existence. In fact, his life has been upside down for a while now and only Markham could solve his problem. At least, that's what he thought.