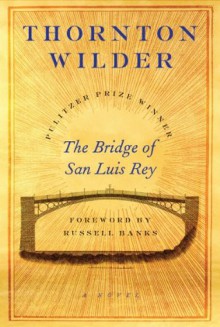 The Bridge of San Luis Rey (Perennial Classics)
Publish date:
March 18th 2014
Publisher:
Harper Perennial
Edition language:
English
Bookstores:
TheBrainintheJar
rated it
2 years ago
This is not a conclusive review. You can't absorb a novel like The Bridge of San Luis Rey in one reading. It's actually the shortest novels, like this and The Old Men and the Sea that require re-reading. Although it seems on the surface that huge novels like Infinite Jest or Gravity's Rainbow show t...
Chris Blocker
rated it
3 years ago
Given the beauty of the language and the mere 140 pages of the story, there is no reason not to read The Bridge of San Luis Rey. I wasn't sure what to expect from Wilder, but I was impressed with the way he handled his sentences and the thoughts he put to page. There is beauty in this story, and phi...
A Sea of Stars
rated it
3 years ago
As far as school books go, I didn't hate it as much as I thought I would. As far as books I would read for pleasure goes, I probably wouldn't pick it up again. Quite frankly, I got the story and, upon some re-reading and reflection, it was decent enough and I found myself actually caring a bit about...
Loves books and cats
rated it
4 years ago
I am having a hard time reviewing the books I've been reading lately because my reaction to so many of them has been tepid. Very, very tepid. I can say nasty things if I hated something or rave if I loved it. But what does one say to "Oh that was just okay." The Bridge of San Luis Rey is one of ...
Julian Meynell's Books
rated it
4 years ago
Not a novel, but a novella. It concerns a monk happens to see the collapse of a bridge and subsequent deaths of five people. He wonders why these people and what part of God's plan it was to choose these five. The book then goes on to examine three of those lives in detail.The book is well writte...
Share this Book
http://booklikes.com/the-bridge-of-san-luis-rey-perennial-classics-thornton-wilder-russell-banks/book,673901