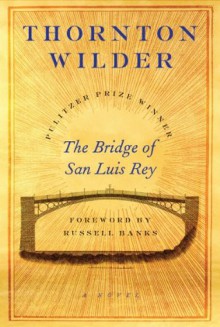 The Bridge of San Luis Rey (Perennial Classics)
Publish date:
March 18th 2014
Publisher:
Harper Perennial
Edition language:
English
Bookstores:
JB's Reading Life
rated it
3 years ago
Are our lives ordered by a higher being? Is there meaning to be found behind tragedy? The deaths of 5 people killed in the collapse of a bridge in Peru are explored by a monk as he seeks to answer these questions. Some beautiful writing and definitely worth reading. Basically an exploration of the ...
TheBrainintheJar
rated it
5 years ago
This is not a conclusive review. You can't absorb a novel like The Bridge of San Luis Rey in one reading. It's actually the shortest novels, like this and The Old Men and the Sea that require re-reading. Although it seems on the surface that huge novels like Infinite Jest or Gravity's Rainbow show t...
Chris Blocker
rated it
5 years ago
Given the beauty of the language and the mere 140 pages of the story, there is no reason not to read The Bridge of San Luis Rey. I wasn't sure what to expect from Wilder, but I was impressed with the way he handled his sentences and the thoughts he put to page. There is beauty in this story, and phi...
A Sea of Stars
rated it
6 years ago
As far as school books go, I didn't hate it as much as I thought I would. As far as books I would read for pleasure goes, I probably wouldn't pick it up again. Quite frankly, I got the story and, upon some re-reading and reflection, it was decent enough and I found myself actually caring a bit about...
Loves books and cats
rated it
7 years ago
I am having a hard time reviewing the books I've been reading lately because my reaction to so many of them has been tepid. Very, very tepid. I can say nasty things if I hated something or rave if I loved it. But what does one say to "Oh that was just okay." The Bridge of San Luis Rey is one of ...