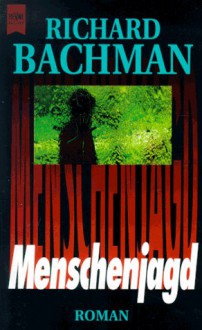 Menschenjagd
ISBN:
9783453022911 (3453022912)
Edition language:
Deutsch
Bookstores:
Reading is my ESCAPE from Reality!
rated it
3 years ago
Audience: Adult Format: Audiobook/Owned She was squinting at the thermometer in the white light coming through the window. - first sentence I am a huge Stephen King fan since I was a teenager but it has been a while since I read some of his books. Lately, I started listening to the audio ver...
Lillelara
rated it
4 years ago
I never would have thought that a book with this premise would be so bad. I know that Stephen King is a hit or miss author for me, but this has to be the book written by him I actually dislike the most. The main problem for me was the fact that I couldn´t root for the main character, Ben Richards....
Cody's Bookshelf
rated it
6 years ago
Synopsis: Ben Richards is out of work and out of luck. His eighteen-month-old daughter is sick, and neither Ben nor his wife can afford to take her to a doctor. For a man with no cash and no hope from the poor side of town, there's only one thing to do: become a contestant on one of the Network's Ga...
Bücherratten
rated it
7 years ago
Inhalt Die Ultimative Gameshow: Wer verliert, ist tot Reality-TV im Jahr 2025: In der Gameshow Running Man werden die Kandidaten zu Freiwild – gejagt von einem Killerkommando und der ganzen Nation. Wer überlebt, gewinnt eine Milliarde Dollar – und wird er dabei selbst zum Mörder, gibt es einen Bonu...
Ina Okami
rated it
7 years ago
سمعت الكثير عن الترجمة المروعة لهذا الكتابوفعلاً كانت الترجمة سيئة .. وسيئة جداًلكنها ليست بالمستوى المرعب الذي تم وصفه لي فقد قيل لي أن الترجمة قد أحالت الكتاب إلى طلاسمالحق أن الكتاب كان مفهوماً ولكن الترجمة السيئة أضاعت الكثير من متعتههناك مفردات ضاعت عند المقارنة بين اللغة الإنجليزية والعربيةتشع...