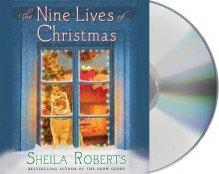 The premise for this story sounded adorable, and this really could have been a fun, light read. I can absolutely see this being made as a Hallmark movie. As both a Romance and as a Christmas story, it failed for me, though, and I don't see any other reason for reading this book. As a Romance, it was full of those tired old tropes that are the worst representation of the genre, and the internal logic just didn't hold up. Shy, sweet heroine who thinks she's plain, even though she only needs new clothes and makeup to become a total hottie? Check! Handsome, hypermasculine hero who has been so hurt by women in the past that he's a commitment-phobe who only dates unmarriageable women, but is secretly a sweet teddy-bear who only needs the Right Girl to teach him the value of True Love? Check! Slutty mean beautiful rich girlfriend to serve as the villainess to keep our lovebirds apart? Check!
I just couldn't like either of our protagonists. The heroine is far too passive and so lacking in common sense logic that I just can't buy that she's smart enough to have been admitted to vet school. The hero literally only thinks of adult women as either "good-timing bimbos" or "nice girls you take to the altar". Throughout the entire book, he only thinks of them with regards to what they can do for him, either sexually or as support systems.
As a Christmas story, I suppose the message is about family togetherness? Because he's forced by circumstances and basic common decency
to take in his mother and stepsisters, so he has to finally listen when she talks to him, and forgives her?
(spoiler show)
Really, this is just set at Christmas time, so has the trappings of the season.
Audiobook, borrowed from my public library, with a very good performance by Kathleen McInerney. I read this for The 16 Tasks of the Festive Season square 2: Guy Fawkes Night: Any book about the English monarchy (any genre), political treason, political thrillers, or where fire is a major theme, or fire is on the cover. There is a fire in the fireplace on the cover art.