Happy July
and to those who live in the USA "Happy 4th of July "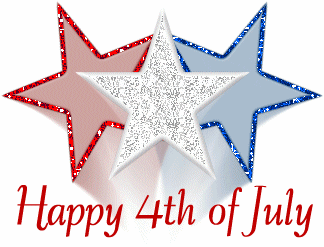 If you don't live in the USA or celebrate it, just have a super awesome day :)
June was a good month, I got a lot of reading done and yet not enough.... if that makes sense, lol. On a happy note I'm almost all done again with my review copies. I just been enjoying the warm morning that I can sit outside and read, it has become my favorite part of the day, even if it is just for 30 minutes or so before it gets too hot or I need to start adulting.
Here are some books that release in July(according to Goodreads) to look forward to
Fledgling by Molly Harper
Wilder Girls by Rory Power
The King by Jennifer L. Armentrout
Dark Age by Pierce Brown
Currently reading: I haven't listened to much audio lately so that is going slower than normally but Im still working on The Dresden Files by Jim Butcher. I'm about way done with book 6, Blood Rites.
For Harry Dresden, Chicago's only professional wizard, there have been worse assignments than going undercover on the set of an adult film. Dodging flaming monkey poo, for instance. Or going toe-to-leaf with a walking plant monster. Still, there is something more troubling than usual about his newest case. The film's producer believes he's the target of a sinister entropy curse, but it's the women around him who are dying, in increasingly spectacular ways.
Harry is doubly frustrated because he got involved with this bizarre mystery only as a favor to Thomas, his flirtatious, self-absorbed vampire acquaintance of dubious integrity. Thomas has a personal stake in the case Harry can't quite figure out, until his investigation leads him straight to Thomas' oversexed vampire family. Harry is about to discover that Thomas' family tree has been hiding a shocking secret; a revelation that will change Harry's life forever.
Print copies, I'm currently reading Storm and Fury by Jennifer L. Armentrout and I'm totally loving it, I will be sad when I'm done with it and not just because I will have to go back to review copies lol.
Eighteen-year-old Trinity Marrow may be going blind, but she can see and communicate with ghosts and spirits. Her unique gift is part of a secret so dangerous that she's been in hiding for years in an isolated compound fiercely guarded by Wardens—gargoyle shape-shifters who protect humankind from demons. If the demons discover the truth about Trinity, they'll devour her, flesh and bone, to enhance their own powers.
When Wardens from another clan arrive with disturbing reports that something out there is killing both demons and Wardens, Trinity's safe world implodes. Not the least because one of the outsiders is the most annoying and fascinating person she's ever met. Zayne has secrets of his own that will upend her world yet again—but working together becomes imperative once demons breach the compound and Trinity's secret comes to light. To save her family and maybe the world, she'll have to put her trust in Zayne. But all bets are off as a supernatural war is unleashed…
Next I think I will start, Dragonslayer by Duncan M. Hamilton, which I got from Tor Books. Thank you :)
In his magnificent, heroic, adventure fantasy, Dragonslayer, Duncan M. Hamilton debuts the first book in a fast-moving trilogy: a dangerous tale of lost magics, unlikely heroes, and reawakened dragons.
Once a member of the King's personal guard, Guillot dal Villevauvais spends most days drinking and mourning his wife and child. He's astonished—and wary—when the Prince Bishop orders him to find and destroy a dragon. He and the Prince Bishop have never exactly been friends and Gill left the capital in disgrace five years ago. So why him? And, more importantly, how is there a dragon to fight when the beasts were hunted to extinction centuries ago by the ancient Chevaliers of the Silver Circle?
On the way to the capitol city, Gill rescues Solène, a young barmaid, who is about to be burned as a witch. He believes her innocent…but she soon proves that she has plenty of raw, untrained power, a problem in this land, where magic is forbidden. Yet the Prince Bishop believes magic will be the key to both destroying the dragon and replacingthe young, untried King he pretends to serve with a more pliable figurehead. Between Gill's rusty swordsmanship and Solene's unstable magic, what could go wrong?
Sometime in July there should be a new giveaway going live, so make sure to keep your eyes out for that.
Now to my June books, as always you will be able to find the buy links in the reviews that are linked down below ;)
Have a great month and HAPPY READING :)
---
Meridian Chronicles: Fairy Nymphs & The Demon Court by M.D. Fryson
Meridian's curse still haunts her after running back to Salem. Living with heartbreak, Aiden cannot go on without Meridian and flees with Tallulah to Salem.
Raina continues her deceit and willfully accepts possession from a demon of the high court, Pyro who commands Raina to kill one of the good witches.
Another trip to the dark realm brings another fight between the Fairy Nymphs and members of the Demon Court when they arrive to answer the dark one's riddle, one that was not meant to answer.
When Meridian and Aiden accept the help of the Fairy Nymphs to unlock the Universe's message of their fate, it is then that Meridian finds herself within the Hall of Souls where the Angels, known as the keepers have a message for her.
With Warrick still out to keep his position in Etheria, the demon court members staging their attack on the spirit guides, Aiden against all odds will not leave Meridian.
Aiden's reoccurring dream is more significant that what he realizes until the very end, where an ironic twist of fate emerges testing his true love for Meridian and the road to saving her soul. Who will end up being Meridian's twin soul? Is it Aiden? Will Warrick succeed and avoid his judgment? What is the message from the Angel? Find out in this dark paranormal romance.
5 ★
---
Fortuna Sworn by K.J. Sutton
Fortuna Sworn is the last of her kind.
Her brother disappeared two years ago, leaving her with no family or species to speak of. She hides among humans, spending her days working at a bar and her nights searching for him. The bleak pattern goes on and on… until she catches the eye of a powerful faerie.
He makes no attempt to hide that he desires Fortuna. And in exchange for her, he offers something irresistible. So Fortuna reluctantly leaves her safe existence behind to step back into a world of creatures and power.
It soon becomes clear that she may not have bargained with her heart, but her very life.
4.5 ★
---
Ask Me Anything by Molly E. Lee
"Edgy and smart with a sweet and sexy core." —Rachel Harris, New York Times bestselling author of Eyes on Me
I should've kept my mouth shut.
But Wilmont Academy's been living in the Dark Ages when it comes to sex ed, and someone had to take matters into her own hands. Well, I'm a kick-ass coder, so I created a totally anonymous, totally untraceable blog where teens can come to get real, honest, nothing-is-off-limits sex advice.
And holy hell, the site went viral—and we're talking way beyond Wilmont—overnight. Who knew this town was so hard up?
Except now the school administration is trying to shut me down, and they've forced Dean—my coding crush, aka the hottest guy in school—to try to uncover who I am. If he discovers my secret, I'll lose him forever. And thousands of teens who need real advice won't have anyone to turn to.
Ask me anything…except how to make things right.
4 ★
---
Shadow and Bone by Leigh Bardugo
Surrounded by enemies, the once-great nation of Ravka has been torn in two by the Shadow Fold, a swath of near impenetrable darkness crawling with monsters who feast on human flesh. Now its fate may rest on the shoulders of one lonely refugee.
Alina Starkov has never been good at anything. But when her regiment is attacked on the Fold and her best friend is brutally injured, Alina reveals a dormant power that saves his life—a power that could be the key to setting her war-ravaged country free. Wrenched from everything she knows, Alina is whisked away to the royal court to be trained as a member of the Grisha, the magical elite led by the mysterious Darkling.
Yet nothing in this lavish world is what it seems. With darkness looming and an entire kingdom depending on her untamed power, Alina will have to confront the secrets of the Grisha . . . and the secrets of her heart.
4★
---
Siege and Storm by Leigh Bardugo
Darkness never dies.
Hunted across the True Sea, haunted by the lives she took on the Fold, Alina must try to make a life with Mal in an unfamiliar land, all while keeping her identity as the Sun Summoner a secret. But she can't outrun her past or her destiny for long.
The Darkling has emerged from the Shadow Fold with a terrifying new power and a dangerous plan that will test the very boundaries of the natural world. With the help of a notorious privateer, Alina returns to the country she abandoned, determined to fight the forces gathering against Ravka. But as her power grows, Alina slips deeper into the Darkling's game of forbidden magic, and farther away from Mal. Somehow, she will have to choose between her country, her power, and the love she always thought would guide her–or risk losing everything to the oncoming storm.
Siege and Storm is the second book in The Grisha Trilogy by Leigh Bardugo. Book one, Shadow and Bone, is a New York Times bestseller, and book 3, Ruin and Rising, is an Amazon Best Book of the Year and a USA Today bestseller. This title has Common Core connections, and this deluxe paperback edition features bonus materials like an interview with Leigh Bardugo, a bonus short story, "The Tailor," and more.
3.5 ★
---
Ruin and Rising by Leigh Bardugo
The capital has fallen. The Darkling rules Ravka from his shadow throne
Now the nation's fate rests with a broken Sun Summoner, a disgraced tracker, and the shattered remnants of a once-great magical army.
Deep in an ancient network of tunnels and caverns, a weakened Alina must submit to the dubious protection of the Apparat and the zealots who worship her as a Saint. Yet her plans lie elsewhere, with the hunt for the elusive firebird and the hope that an outlaw prince still survives.
Alina will have to forge new alliances and put aside old rivalries as she and Mal race to find the last of Morozova's amplifiers. But as she begins to unravel the Darkling's secrets, she reveals a past that will forever alter her understanding of the bond they share and the power she wields. The firebird is the one thing that stands between Ravka and destruction–and claiming it could cost Alina the very future she's fighting for.
3.5 ★
---