Word of Caution: If you hate the Big Misunderstanding trope, then avoid this book, because the entire thing hinges on it. Not only is it a "big misunderstanding" but it's perpetuated by one character consistently lying to everyone, and not even for a very good reason. Well, she thinks it's a good reason. Me? Not so much.
This is the second F/F book in a row with a punk lesbian. I guess this is a common enough thing to already be a recognizable trope? Aren't there country-loving lesbians? Or jazz-loving lesbians? Or hip-hop loving lesbians? WHERE ARE MY HIP-HOP LESBIANS?
But seriously, this book is both complicated and simple. It's told in a simple, rather straightforward way that rarely delves into the depths that this book could easy delve into given the subject matter, mainly how do LGBTQ+ individuals who need faith in their lives deal with the hurtful messages that too many churches STILL put out there because they're stuck in medieval times. I was looking forward to that aspect of it, because too often the one sole religious person in M/M books often acts like he or she could be an offshoot of the Westboro Church family tree. I know many people of faith, some who are close-minded in that way, but others who really embrace Jesus's teachings about acceptance and loving each other without judgment. So let's look at both sides of the spectrum and everything else in between here, right?! Except it never really happens. *sigh*
Jo's dad, who runs his own evangelical radio show, accepted his daughter without hesitation when she came out to him. And now that he's remarried and his new MIL has a stick up her butt about EVERYTHING, and because they've moved to a more conservative, smaller town, he asks Jo to lay low. That is, go back in the closet. And she agrees. So she can get her own radio show that she unironically calls "Keep It Real." I say unironically because she's completely unaware of the irony of the title while she's lying about herself to everyone around her.
Except one boy she meets and befriends. She tells him immediately. Which pretty much pulls the rug out from under her every other time she tries to explain to herself why she can't tell the truth to her girlfriend she's so super in love with. Oh, no! Can't do that! And it leads to one ridiculous, cliched "twist" after another until I just wanted to smack her Cher-style.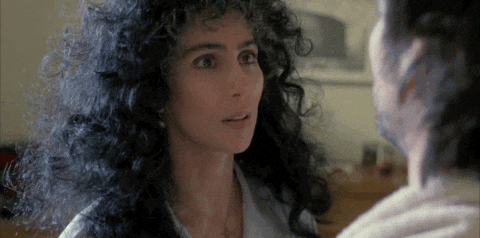 Oh, Cher. Where are you when we need you most?
I do like the various different characters. There's a weird subplot with Dana. It was nice to see how Joanna and Elizabeth eventually work out their issues. When Joanna does finally stand up for herself, that's pretty great too but comes a bit too late in the story, so that everything after that is rushed. Joanna overall is a passive character and except for that one moment of backbone, she never really stops being passive. Barnum was great, as were George and Gemma. The pastor of the other church, the not-friendly-to-gays one, has this weird quasi-transformation, maybe? It doesn't really go anywhere.
So I guess there's a hopeful message in here. And I guess this is eventually about being true to yourself, even when that self isn't who you originally thought it was. But for each thing I found to like, there was another thing that annoyed me in equal measure.