You know the deal...rich alpha-hole is looking for no strings attached sex; instead he meets the perfectly gorgeous virgin who he can't resist falling in love with and now wants to live happily ever after with her. I'm exhausted...
Sebastian Black has a little black book with names of women he calls when he's feeling in the mood for no-strings sex. He doesn't want to know these women's names so he names them all after cartoon characters. There's Wilma and Betty for when he's in the mood for a threesome and there's blonde, doe-eyed Bambi. They collect a weekly salary for their time. The rules are that they can't fall in love and they make themselves available any time Sebastian calls. He's looking for his Jessica Rabbit -- the perfect red-headed bombshell.
Rosslyn is in dire straits. Her parents were killed 12 years ago so she and her 13 year old brother have been living with their grandmother since. Granny just passed away and they've lost their home. Rosslyn and her lil bro are living in their Oldsmobile so Rosslyn has no choice but to take a job at Sebastian's club. As soon as Sebastian sees Rosslyn, he has to have her. She's his Jessica Rabbit...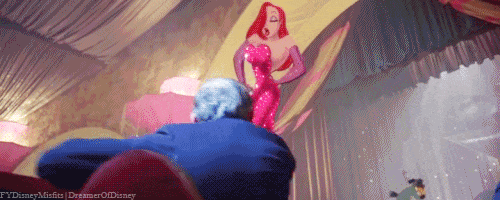 Rosslyn's situation couldn't be more perfect for Sebastian's nefarious plans. He likes his girls desperate so they can't refuse his offer to add them to his stable of available pussy. So what does Sebastian do? He fires Rosslyn then presents his offer. Add in Rosslyn getting arrested and her lil brother being taken by child protective services and...
I didn't like the way Sebastian used his power to take advantage of Rosslyn's situation to get what he wants.
I didn't like that Rosslyn just falls in line so easily as if selling herself is her only option to put food on the table and a roof over their heads. And letting Sebastian call her by another name, OH HELL NO! Also, I hate the naive 20-something virgin who is the best lay ever in the history of sex after one time.
I did like the pace of the story, the tension, and the plot twist here, but I must say that I figured it out early after a few clues. Overall, Little Black Book kept me engaged, so isn't a bad book but it definitely didn't blow me away either. LBB gave me that been-there-done-that (many times over) feeling.