The Baker Family Saga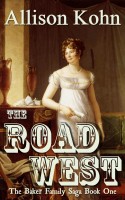 The Road West
This is the first book in the Baker family sage, previously published as Evelyn's Anxious Bench.Delores Ayotte says: Although this is a fictional novel, Author Allison Kohn does a great job of combining both fact and fiction to describe the extreme conditions of that era. "Evelyn's Anxious Bench" is an easy-to-read, Christian novel which is sure to attract a wide reading audience.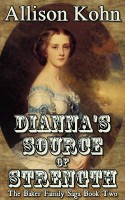 Dianna's Source of Strength
This is the second book in The Baker Family Saga. Dianna has grown into a beautiful young lady with the attending consequences.Love and danger are now a part of her life and she needs strength to endure and triumph.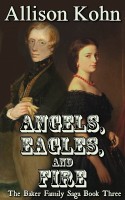 Angels, Eagles, and Fire
This is the third book in the Baker Family Saga. There is danger around every corner. Richard runs into thieves on his way home. Linda and Pearl set a house on fire. Pearl meets a panther, and Alice, Donna, and Linda are the target of Chester Thomas.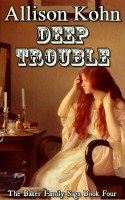 Deep Trouble
This is the forth book in The Baker Family Saga. Alice, Donna, and Rose are old enough to get a little culture in the big city of San Francisco, California. But the kind of culture they find when they get there is not what they expected. California in the gold rush days, even the end of them, is no place for gently nurtured young ladies. Being drugged and kidnapped is only the beginning.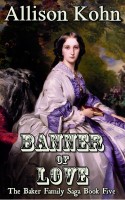 Banner of Love
This is the fifth book in the Baker Family Saga. The Civil War takes over the lives of the family because four of the young adults are visiting their married cousin, Mary, when war breaks out. Two of them side with the South and two of them side with the North. That is a cause for trouble, especially when Linda is one of the company in Mary's home and. for that matter, in the battle field.