Every Friday, my husband drops me off at the Half-Priced Bookstore and my mom picks me up when she gets off work. Otherwise, I would not see her often. I bought her this book because she couldn't remember if she read it (she has read other V.C. Andrews books and borrowed mine when I was a teenager!) My Sweet Audrina is a "Stand-Alone" novel V.C. Andrews wrote before passing away in 1986. In 2016, Andrew Neiderman, the ghostwriter hired to carry on V.C. Andrews name wrote a sequel.

List of V.C Andrews Books [and which are ghostwritten!]
This is a weird way to review, but hopefully, you go with it. I had a very special moment where I randomly had a book talk with my mom on Facebook and I wanted to share it. It is a memory I want to keep! This will contain spoilers! I advise you to please read the book before reading this. Unless you have no desire to or don't mind spoilers.
Be warned, I am putting a bunch of photos to show the kind of goofy person my mom is <3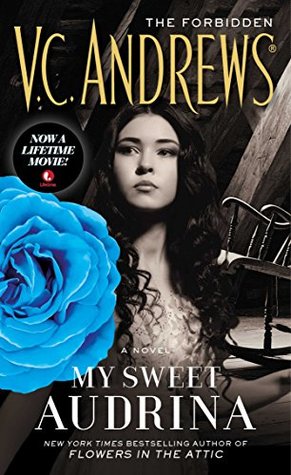 The whole interaction started with me posting this:
Mom: I finished my book, I need the next one!!
Leigha: The Audrina one? I need to read the second one, too. I'm a little put off that it is by a ghostwriter and may or may not be how VC Andrews wanted the story to go.
Mom: Yes! That's very true but I want to read it anyway...The one I just read was sooo good!
Leigha: Were you mad at the ending like I was?!
Mom: Yes, that's not how I thought it would end...
Leigha: I was so annoyed with Audrina! I know she cares about her sister, but part of me just wanted her to leave! I get why she stayed and I probably would have to if I was in her shoes and had a seemingly helpless person to look after.
Mom: I couldn't believe she was going to leave without her!!
Leigha: Sylvia refused to go and she knew her dad wouldn't hurt Sylvia. However, I think Sylvia threatened to jump from the tower thing and that is why Audrina stayed. I think Sylvia is to blame for some of the deaths in the house. Or partly to blame for accidents that ended in death. I also think she knows more/is smarter than they give her credit for.
Mom: Same, she was smarter than everyone thought. Vera was awful, I disliked her throughout the whole story.
Leigha: Yeah, but she is a tragic case. She had the brittle bone thing and was always hurt/sick/in the hospital and was neglected and knew her birth father refused to accept her as his daughter. That's got to mess you up.
Mom: True, but Audrina was never mean to her and she treated her so hateful. Jealousy, I suppose, but she could've had a friend in Audrina if she would've only treated her kinder.
Leigha: Yeah, which is something else that makes it so tragic. Vera was very close to having a friend (a sister by blood), but she let her childhood jealously fester. She knew they were sisters and that her father adores Audrina to the point of making up the whole lie about "first Audrina" being the one to get attacked and "killed" so Audrina would forget her memories. Vera had jealousy and probably mental health problems, depression and trauma from the way she was treated/neglected by her father. I think it is so sad that Vera died and they never got the chance to reconcile. I'm not sure Vera would want to after what she was going to do to Audrina, but still... Vera at least needed medical help for her mental health. I mean she went crazier over time and was going to let Audrina die.
Mom: I agree. Her own mother wasn't very loving towards her either.
Leigha: I think her mother held resentment toward Vera. She also didn't seem the type to know how to properly show her love. She loved Audrina's(and Vera) father so much (who can understand why!?) and when Audrina's mother died, she let him use her no matter how much it hurt her. Another sad case. This book was full of people with tragic backstories.
Mom: Yes, it was. I really want to see how the ghostwriter finishes Audrina's story.
Leigha: It is called Whitefern and looks like a doozy. Don't read the whole description. I think it gives too much away. It was published in 2016, so way after VC Andrews died. The reviews are really bad for this one. People are mad that the ghostwriter (and the publishers) are still piggybacking off VC Andrew's name and popularity.
Mom: Yeah, I just saw some of those reviews! I don't think any I saw were good! Oh no...
Leigha: I liked some of his ghostwritten books (back before I knew they were ghostwritten.) But people claim the more this man ghostwrites for VC Andrews, the worse he gets.
Mom: I'll just have to see for myself.
So will we like the ghostwritten sequel? The world may never know because we can't find a copy and I like to buy most of my books used in the wild (at the local HPB)
I believe if my mom did ratings, she would have given this a gushin5-star rating.