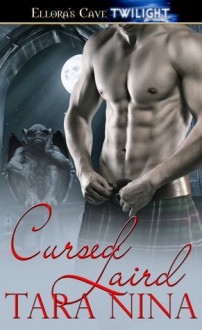 Caledonia finds a statue in Loch Tay and her salvage company brings it up. Her ex-husband turns up in town wanting her to go back to work for his salvage company. Caledonia says no but he won't give up and spies on her. Caledonia has been hearing voices connected to a poem she found as a child. Now the voices have meaning for her with the retrieval of the statue who turns human at night. Struan is uncertain what is going on. It is up to one of the spirits who Caledonia has heard to explain it to Struan. He is attracted to Caledonia as she is to him. But will they act upon the attraction? Will Struan's curse be lifted? Will they be together? Will Kip destroy what Caledonia and Struan have?
I enjoyed this story. I liked Caledonia and Struan. I also liked her parents and the O'Reilly brothers who work for Caledonia. They provide comic relief. I like the uncertainty between Caledonia and Struan of who will speak of love first. I found his brothers dropping hints for what Struan had to do funny. They would not come out and say what he and she had to do. Caledonia was oblivious to the hints
I look forward to reading the other books in the series.