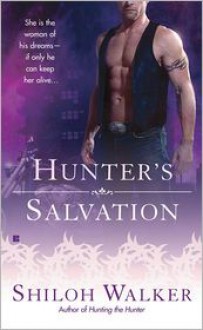 I was amused at the name: Vax is a character in a D&D game i watch on youtube, only *that* Vax is a half-elf rogue assassin paladin. Both Vaxes though have one thing in common - they exhibit TSTL behavior. In this case, the heroine called it; Vax is a stupid jerk.
The h is an investigative reporter with telekinetic abilities. She noted something suspicious about a series of rape/murders and started poking her nose in. She got too close and one of them grabbed her little sister, killed her. Now she's on a mission and she doesn't care if she survives it as long as the bad guys go down.
Vax, introduced a few books ago, is a witch. He's also a retired Hunter because reasons, and he's been wearing that hair shirt for nearly 100 years. He gets the Call, and goes to investigate.
He manages to rescue her, they do some discussing, the bad guys send a mutant after her, he rescues her again, while capturing the mutant. They take said mutant to other Hunters...and here's where it starts to get shaky. If there's one, there's bound to be others. They have names. They know there's a vampire involved. They go back to finish it without anyone coming along as aid (why?) his restocking (or stocking up as the case may be) the silver nitrate, etc. Then they find the lab, go down there, have a confrontation, and run. He manages to get beneath her shields (finally), knocking her out, and goes back after them, alone. He also sends a message to the Hunters he'd talked to before. SOMEhow, he survives it, but the vampire manages to give him something that destroys his powers, and the female witch (whose book I haven'd read, because I don't have it) senses it, but doesn't try to extract it.
Actually, considering they both were flyers, I don't get why she didn't poof them both out and work on him outside. I don't get a lot of things though, like if he was able to explode the vampire, why he didn't do that in the first place? And if the h had a gun loaded with silver bullets, why the hell didn't she shoot? And if he was a flyer, why didn't he poof behind the various mutants and slash them with his fancy silver knife? There's a hell of a lot that does NOT make sense in this one. It's like the abilities were ignored to draw the book out.
Now for the "romance" bit. He tells the h upfront that he's not into relationships. She tells him she doesn't do casual and pushes him away. Eventually though, they end up horizontal. He picks up on her lack of a will to live and yet... after everything goes down (and they both miraculously survive it), he's an insensitive jerk, telling her to go get herself a life. I kinda wonder how he'd have felt if, when he went back to apologize, he'd found she'd offed herself. She didn't though. She was pissed off, and punched him at least once. I thought perhaps she should have used her powers and shoved him out a window, or whacked him upside the head with a lamp.