Originally published at midureads.wordpress.com on October 3, 2018.
2018
Soulless: The Manga, Vol. 1 by Gail Carriger
Oh, this was such a pretty book! It stayed true to the story from the novels, making me laugh and fall in love with the series all over again. The art is just so manga-ey that you can't help but like it. My initial thoughts on reading it can be found here.
2015
The Dresden Files: Storm Front, Volume 1: The Gathering Storm by Jim Butcher
Another novel converted to graphic novel format. While Ms. Carriger's humor shines through in both novel formats, I didn't find the same to be true for Butcher. Even so, if I can stick to this series with its problematic treatment of female characters, I can stomach the graphic novels too. Did that sound like somebody was forcing me to read them? Lol
2013
Undead and Unwed by MaryJanice Davidson
Betsy came into my life when I needed a reprieve from the real world. She might be shallow and it might take her like 9 books to realize that, but she still makes me laugh. Her magnetic ability to attract trouble no matter where she goes reminds me of Mercy of the Mercedes Thompson fame. Her tenacity has shades of Kate Daniels from another favorite series of mine. But most of all, I love her for the way she sticks up for those she considers family!
The Girl Who Circumnavigated Fairyland in a Ship of Her Own Making by Catherynne M. Valente
This is one book that I wish I had found when I was a kid — or had been written back then. I think I'd have appreciated it more? Anyway, it has the charm of the Dahl books but there is a dark undercurrent to them that makes them scary. But in a good way. Fine job I'm doing of explaining why I like this series, right? But I do!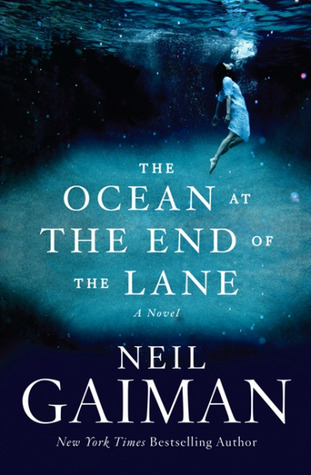 The Ocean at the End of the Lane by Neil Gaiman
Gaiman's books either wow me or they don't i.e. there is no middle ground. But I never not like them. Does that make sense? For instance, I wasn't a fan of American Gods but I loved Coraline and this one. TOATEOTL had this surreal feel to it that never let up. Despite being a short story, I felt like I connected with the characters in it too.

Callahan's Crosstime Saloon by Spider Robinson
This book has an old-timey sci-fi-ish feel to it that instantly resonated with me. I am also a fan of anthologies and short story compilations. To me, they present a varied meal where I sample different dishes and decide which ones i loved. Like most books of its genre and time, it isn't overly long. Another plus in my case! I also reviewed the second book in this series.
2012
The Emerald City by J.A. Beard
** spoiler alert ** This was such a refreshing book! Another YA novel that I'd recommend to those of us who aren't too into them. The book had everything: a teenager who acted her age was smart and kicked butt-not dumb enough to dismiss the strange ongoings in her school like most YA protagonists would have done.characters that kept me interested throughout — Nick's zombieness made him all the more fun and Lydia was cute. It had the right beginning and a balanced ending — the book wasn't too long either.there were some spelling mistakes, yes.the humor was done just right. It was fun, witty and a quick read — I just couldn't put the book down till I was done reading.
Undermountain by Eric Kent Edstrom
** spoiler alert ** I got this book from Making Connections for free, in exchange of an honest review.The action started from the get-go and it never stopped.

It has been so long since I enjoyed a YA novel this much and didn't end up wanting to hit every character over the head-well, maybe Shiv, at times!

My favorite character was Grizz for obvious reasons. TogYip were cute too.

The transformation that each teenager goes through by the end of their journey (as Harvin was kind to observe for us) made the story even better.

The romance or sprinklings of it was just the right amount.

There were a few spelling mistakes which I noticed though.

The descriptions of the city of Bigfeet were sufficient without being boring.I loved every bit of it!
2011
The Tiger's Wife by Téa Obreht
Sadly, I don't remember much about this one, just that I loved it. It was a simple, touching story about a family. That much I do remember!
So those were my faves from various Junes of various years. Hope you had fun reading about it!